Is Boba Fett The Most Overrated Star Wars Character Ever?
on
December 31, 2011
at
12:37 am
Boba Fett.
Is he the best bounty hunter in the Galaxy or just a scruffy voiced supporting character with a cool helmet and a jetpack?
Is he a fringe character whose cool outfit outweighs his actual contribution to the actual plot of the original trilogy?
Star Wars fans worldwide have loved Boba Fett  ever since his first appearance in the Empire Strikes Back.  However, his mystique began prior to the movie, with the Kenner line of Star Wars action figures and his appearance in comics and TV. The Boba Fett figure is by far the most famous Kenner mail-away toy, of all time. Originally advertised as coming with a firing rocket on the back of the packaging in 1979, none of the figures actually mailed that included the special feature. However, Kenner prototypes of the legendary Fett figure do exist and they are highly coveted by fans of Boba Fett, hardcore Star Wars geeks and toy collectors alike. Boba Fett would first appear animated in The Star Wars Holiday Special in 1978 as a mysterious figure who betrays Luke Skywalker from a giant monster, only to be revealed as a bounty hunter working for the evil Darth Vader.
Boba Fett was a brilliantly "played" marketing ploy.
THE CASE FOR BOBA FETT's COOLNESS:
Ultimately the enigmatic action figure would become the most talked about character from the Empire Strikes Back, which is highly regarded by many as the best Star Wars film of all time.  A bounty hunter hired by Darth Vader to find the Millennium Falcon, Boba Fett left cloud city with Han Solo's frozen body in carbonite, to deliver him to Jabba The Hutt. He established himself in a strong way for the short amount of screen time he had in the film. He was a new mysterious villain who had a cool outfit with a bad ass helmet and he said very little. He had about 25 seconds worth of dialogue in the movie but it was all he needed.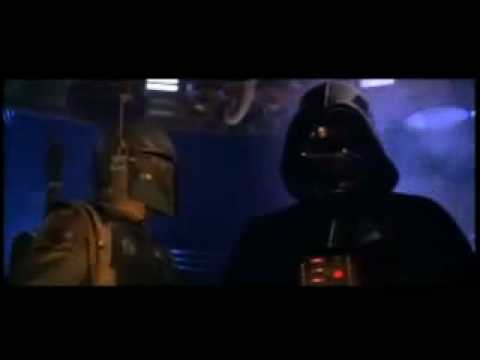 Those 25 seconds, the cool outfit and the aura he portrayed would eventually spawn a large and loyal following of people that custom modify versions of Bobaba Fett's costume and gather at comic conventions and other genre gatherings, called the Mandalorian Mercs.
All of the was very cool.
THE CASE AGAINST BOBA FETT"s COOLNESS:
The decline of coolness begins and ends in Return of thge Jedi. Boba Fett is at Jabba's palace in Star Wars Episode VI: Return of the Jedi when Solo's rescuers are captured. Fett is just hangin' out. He then travels on Jabba's sail barge to the sarlacc pit, where the Luke, Han Lei and Chewbacca are to be thrown into the monstrous cavern. Boba Fett attempts to intervene when the prisoners mount an escape. In a pathetically comedic scene Han Solo accidentally makes Fett's rocket pack malfunction, flinging the bounty hunter into the barge, and then he tumbles to his inferred death into the Sarlacc's mouth. The Sarlac then burps as Fett's screaming ceases.
That is the last Boba Fett is seen in the original, unaltered Star Wars trilogy.
THE CASE FOR BOBA FETT BEING OVERRATED:
Well…aside from his cool look and short but bad ass appearance in Empire the Strikes Back, Boba Fett suffered a chump's death and was killed by accident.
He was  later revealed to be the child clone of Jango Fett whom he raises as his son – in the second prequal, Attack of the Clones.
Would Boba Fett been cooler, had he never even appeared in Return of the Jedi? George Lucas as quoated as wishing that if he knew the popularity Fett would gain among fans, he would have given him a "more exciting" death.
Ultimately what that equates to is Geroge Lucas, his creator admitting to having failed Fett.
Now don't get me wrong, Fett is a great design, originally concepted by Ralph McQuarrie, one of my favorite artists of all time.  But his death is weak. Really weak. Unforgivably weak.
He's not in the three films very much and other than being the galactic UPS delivery for Jabba the Hutt, he's not much of anything else in the films. And the films are really all I am judging this on.
I also was not a big fan of the whole Jango Fett, clone connection either. It seems that the more we learn about Boba Fett, the less cool he gets. He was at his peak at the End of Empire Strikes Back and it has been downhill ever since.
VERDICT: YES, BOBA FETT IS OVERRATED
But I will always love his design and will remember those years that I had as a child in first and second grade, salivating for more information about Boba Fett and waiting for the Return of the Jedi. Sorry Merc pals!