Transmedia eBOOK Production Journal – Entry 7: Learning from Professionals
on
July 21, 2012
at
12:00 am
LEARNING FROM THE PROFESSIONALS THAT HAVE DONE IT BEFORE:
Let's face it. Originality is rare. An easy formula for originality is to digest what you love, MASSIVE AMOUNTS OF VARIOUS MEDIA! Once you eat a good helping of art, music, books, movies, games and  more…YOU use small pieces of ideas of influence from each thing and regurgitate the combination of ideas into one NEW IDEA!___YOUR IDEA!!!!!
But you can't get there unless you study the past, present and future. So let's focus on that for a minute.
You have to learn from everyone else's mistakes, so that you can make your own.
And you have to pay attention to how things are done.
For an example, last night, I saw the Dark Knight Rises at 12:15 AM. After two hours and forty-four minutes, I still wanted more. I didn't want it to end.
Why?
Well many folks might answer that it was because it was Batman and they have always loved this character, yada, yada, yada. But the reality is, that we love the Batman Trilogy by Chris Nolan, because they are awesome stories.  Now if you haven't seen the Dark Knight Rises yet, I highly suggest you do. It's well written, well directed and the production design is brilliant.  Are many people saying the same thing about DC's newest Batman comics?
The thing that stood out the most was character development. Currently DC Comics is producing something I'm really not interested in, in their "New 52″ lineup. They lost me a long time ago. So I've been a bit jaded and scorned because I love these characters so much and they have helped to shape me as an artist, writer and creator. But I get it, you need to sell books so whatever, I've moved on. I get my Batman fix on the big screen and in cartoons these days.
The Batman movies are just amazingly produced pieces of film. The Dark Knight Rises is an exemplary piece of film making 101. You cared about these characters from start to finish. EVERY ONE OF THEM–from the villains to the heroes.
If you aspire to make moves or write or create anything at all, watch this movie and enjoy it AND learn from it.
This is one example of something currently happening that is something to pay attention to and learn from…But there is more!
SUPER COOL NEW TRANSMEDIA eBOOK PROJECTS TO CHECK OUT:
I have found two very cool interactivity entertainment pieces that fall within the transmedia umbrella. They have also caught my eye and I have been paying attention to them as inspirational examples for creating I Never Sausage  A Place, my transmedia eBook follow up to the Gates comic book.
1) The Numinous Place by Mark Staufer
The Numinous Place is actually a very, very cool Transmedia Project being developed by a very talented writer by the name of Mark Staufer.  The Numinous Place is a mind trip of astronomical proportions and Mark has done an amazing job of getting the mythos for his world flushed out and built up. They currently have a kickstarter campaign that needs your support. Please check it out!
It has a very nice alternate reality based vibe. http://thenuminousplace.com/ The official website gives you more details about all of the realistic news reports, documents and other cool things that come into play to get into this world.
2) Tim Street's new eBook: VIDS
I met Tim Street last week at a TransmediaLA event at USC. We connected immediately over eBook geekery. He just released a new Transmedia eBook called, VIDS exclusively with iTUNES.
Tim Street is a Transmedia pioneer who has produced some really amazing things since his career kicked off in the 90′s. His wikipedia entry is pretty impressive.  Tim has done many things in his career, with Disney and Nickelodeon and he also created the popular website FrenchMaidTV. In addition to this he created a website that was his first real delving into transmedia, called fortheloveofjulie.com fortheloveofjulie.com.  Wired magazine called it, "one of the Internet's creepiest sites… and one of the most convincing hoaxes to hit the Net."
So we shouldn't be surprised that Tim has continued on his path of transmedia exploration and has taken on a new project entitled VIDS, which is now in the Itunes store.  Tim built it entirely in iBook Author: Which I spoke of in my Journal entry Number 3!
Here is an awesome video from Tim, about Vids. Like my intentions for I Never Sausage A Place, it uses images, pros and videos.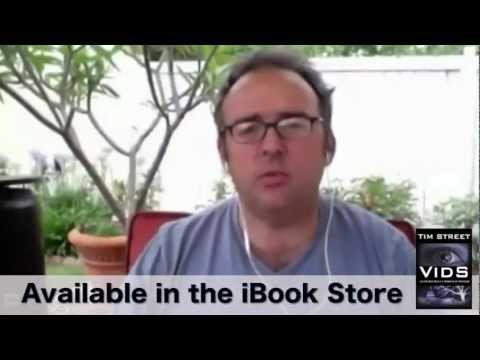 Tim has been kind enough to share his secrets with me about using iBook Author. I'll keep you posted!  In this video Tim says something that rings very, very true. "Whatever you were working on ten years ago, take a look at it and see if you can monetize it now." Ironically I Never Sausage A Place was something I was looking to do about 13 years ago…but now, just now has it really evolved.

my name is Hal Hefner, AND I wish I was Batman today. halhefner@gmail.com
FOLLOW HAL HEFNER's TANTALIZING TRAVELS THROUGH GOTHAM CITY AND HELL:
deviantART   twitter   Facebook   Google+
If you feel lucky, bored or lonely, you can sign up for the Gates mailing list. This is listed on the very top left hand column of the website. I promise that I will not email you pictures of the Westboro Baptist Church making their daily offerings to Satan.